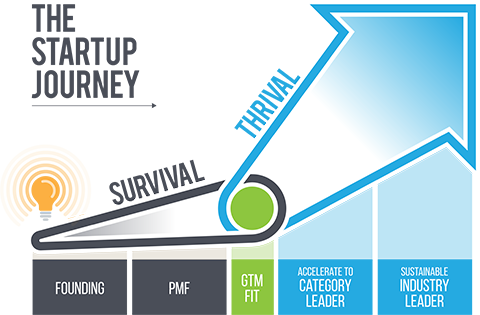 Chapter 1: Founding
The Founding Idea
Start with a problem or a disruption
Founding Idea: MobileIron
Founding idea: Do the homework
Founding-idea test: Does it have "gravity"?
The Co-Founders
Co-founder fit
Co-founder skills
Founders set the culture
The founder oath: Separate mission and ego
Founder challenge #1: Too many co-founders
Founder challenge #2: The equity split
Founder challenge #3: Founder drama
The Early Team: Choose wisely to survive
The Early Investors: Pick like a co-founder
Non-linear Path is uncomfortable, but normal
Thinking Ahead: Milestones to make the next round easy
Chapter 2: Product-Market Fit
Introducing Product-Market Fit
PMF for Enterprise Startups: It's different
Paying reference customers
How do you know?
Finding PMF: Your path through the woods
Start with the product-market hypothesis
Focus but be open to adjacencies – even if that seems like heresy
Before building: Gathering customer data is an unsung skill
While building: Listen, review and iterate your way to PMF
Get to 20 paying customers—and find your hotspot
MobileIron: Adjusts and Finds PMF
Engagio: Fast path to PMF & $1M Annual Recurring Revenue
PMF Challenges
Overcoming founder bias
When PMF feels elusive
Some early customers get left behind
Technical debt – damned if you do, damned if you don't
Team debt – virtually unavoidable
Achieving PMF: A huge milestone
Chapter 3: Go-To-Market Fit
The missing link for growth: Introducing Go-to-Market Fit
The 3 parts of GTM-Fit
Part 1: Decide on a GTM Model
Part 2: The Key – Create a repeatable GTM playbook 1.0
Step 1: Figure out the core steps in your GTM Model
Step 2: At each stage, what do marketing and sales say and do?
Step 3: Identify how the rest of the company can support each step
MobileIron: Sample for sales-led playbook
SendGrid: Sample for marketing-led playbook with self-serve
Nailing the GTM playbook
Part 3: Line up on an urgent wave – or suffocate slowly
Address an urgent operational pain
Provide a high level strategic-value proposition tied to larger wave
Urgency requires sacrifice
When to start looking for GTM-Fit?
What if GTM-Fit feels elusive?
Cure #1: Find the GTM patterns
Cure #2: Get everyone in line
Finding GTM-Fit: Hard on you. Hard on the team.
GTM-Fit: strains the company and the team
VP Sales' dilemma: Davy Crockett or Braveheart
GTM Fit doesn't always mean hypergrowth now
Inside the black box of GTM metrics
Instrument the GTM machine analytics
Metrics answer the key GTM financial questions
Drive scale: find GTM leverage
What does GTM-Fit feel like? Momentum.
GTM-Fit: Exit survival mode. Get ready for Thrival.
Chapter 4: Accelerate to Category Leadership
Welcome to Thrival
Tien Tzou, Zuora
Aaron Levie, Box
Bob Tinker, Mobileiron
Acceleration GTM to category leadership
Why target category leadership?
Startups and other vendors don't decide. Customers and Industry analysts do.
Creating a new category
GTM Acceleration drives massive changes across a company
Execution shift: from careful execution to calculated recklessness
Market shift: separate from the pack
Market shift: obsess about awareness and thought leadership
Mindset shift: A GTM-led culture
Investor shift: growth-centric
The big question: How fast to go?
Sample growth algorithms
Dashboards and early-warning systems
Intelligence from the troops
Chaos of GTM Acceleration: Really fun and really scary

Fix one thing, another breaks: The Flywheel of Success and Pain
The "Oh Shit" Moments
How to Avoid Total Chaos
Clear vision and culture
Set explicit company and team goals. Tackle interlocks and issues.
Pace of execution: regular communication and program reviews
Accelerating to Category Leadership is both fun and scary
Chapter 5: Achieving Sustainable Industry Leadership
Transcending the initial category
Citrix,"Once you get to category leadership, it's smooth sailing, right?
Few companies transcend their initial category
The 7 keys to transcendence
Path to industry leadership
Add new GTM
Capture adjacent categories
From product to platform & ecosystem
Competitive landscape: eat or be eaten
Overcome the gravitational pull of the initial category
Achieving escape velocity
Big Question: When to shift from acceleration to sustainability?
Drive to Sustainable Industry Leadership
Execution shift: Calculated recklessness to predictable growth
Mindset shift: Clear path to cash flow break even
Mindset shift: Drive efficiency and maximize net LTV
Investor shift: Prepare for cross-over & public investors
Drive to Sustainability – People & Culture Changes
Culture co-existence: Growth with planning & optimization
Team changes: Expect them
Success means change. Change is hard and healthy.
Chapter 6: Closing Thoughts
Key to success: Anticipate company change
In the beginning: Survival
Then, shift to Thrival
Sometimes there's not a great answer
Change is hard. Change is healthy.
Celebrate along the way and have fun!